HSME RUNS IN-HOUSE LABORATORY WHERE MOST REQUIRED TEST FACILITIES ARE AVAILABLE IN PLACE.
THEY ARE CALIBRATED PERIODICALLY TO KEEP THE TEST RESULT RELIABLE.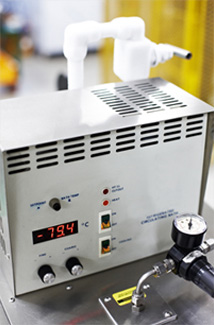 LOW TEMPERATURE TEST
THE VALVE IS BEING FROZEN BY A LOW TEMPERATURE DOWN TO MAXIMUM -80℃(-122℉).
THIS TEST IS PERFORMED TO VERIFY THE VALVE'S MINIMUM TEMPERATURE RATING.