HSME RUNS IN-HOUSE LABORATORY WHERE MOST REQUIRED TEST FACILITIES ARE AVAILABLE IN PLACE.
THEY ARE CALIBRATED PERIODICALLY TO KEEP THE TEST RESULT RELIABLE.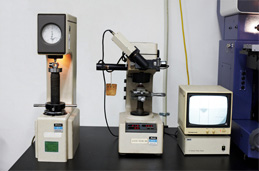 HARDNESS TEST
AS AN ALTERNATIVE OF STATIC MECHANICAL TEST, THE HARDNESS TEST IS IMPLEMENTED FOR THE RAW MATERIAL RECEIVED ESPECIALLY WHEN THE MATERIAL VOLUME IS QUITE SMALL.

HRC, HRB, AND HV ARE THE UNITS HSME IS USING IN THE RECORD DOCUMENTS.