HSME RUNS IN-HOUSE LABORATORY WHERE MOST REQUIRED TEST FACILITIES ARE AVAILABLE IN PLACE.
THEY ARE CALIBRATED PERIODICALLY TO KEEP THE TEST RESULT RELIABLE.
DIGITAL COMPARATOR
BEING USED TO PARTS COMPLETED TO VERIFY ITS CONFORMITY TO THE WORKSHOP DRAWING. THE COMPARATOR WITH A DIGITAL INDICATOR PROVIDES A GREAT HELPS.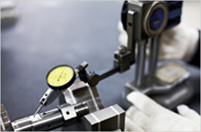 PARTS ALSO MANUALLY INSPECTED FOR ITS DIMENSIONAL CONFORMITY TO THE DRAWING.