HSME RUNS IN-HOUSE LABORATORY WHERE MOST REQUIRED TEST FACILITIES ARE AVAILABLE IN PLACE.
THEY ARE CALIBRATED PERIODICALLY TO KEEP THE TEST RESULT RELIABLE.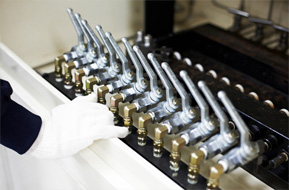 FACTORY TEST
PRIOR TO SHIPMENT TO CLIENT, EVERY VALVE IS LEAKAGE-PROOF
TESTED ON SEAT AND STEM RESPECTIVELY.

TESTS ARE PERFORMED USING N2 OR HYDROSTATICALLY DEPENDING
ON CLIENT'S REQUIREMENTS.